Industry Women recently profiled our very own Architectural Designer Julie Faloon.
"Julie learned early on in her career about the importance of having a broad spectrum of knowledge, beyond architecture. She also learned the importance of removing ego, gentle guidance and listening. Sounds like good lessons for us all…"
Read Julie's interview here: https://lnkd.in/gThH3DG 
You can reach Julie at 027 700 482 or via email: julie.faloon@hamptonjones.com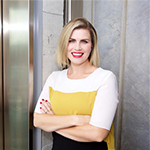 Associate Director, Marketing Manager
Margaret is the Marketing Manager at Hampton Jones. Having worked in the property and construction industry in both New Zealand and the UK for 12 years; she understands the impact that great design has on our lives, and is very passionate about championing better buildings for better lives.