Hampton Jones is proud to be supporting West Auckland Riding for the Disabled as they continue their goal to build a covered riding facility at Henderson Valley Park where they operate. This facility will allow the West Auckland RDA to provide many more opportunities for those living with disabilities and special needs to benefit from safe, healthy, stimulating, therapeutic horse riding and horse-related activities.
Tony Phillips, our Northern Regional Director and Quantity Surveyor has provided the organisation with a building cost estimate to help them better understand the budget for this project. Tony says:
"This is a great cause, and one that will provide great benefits to the community. It was a pleasure to be able to help them in this way."
Norma Hayward, President of West Auckland RDA says:
"We are delighted to announce that we now have a signed Agreement to Lease for Development with Auckland Council for the southeast side of Henderson Valley Park. Our next step whilst waiting to hear about the Resource Consent is to continue our fundraising efforts. The first step here is to fully understand the cost of the build. We are so grateful for the support of Tony Phillips, Dan Wu, Rupam Kaur and Hampton Jones, who have been professional and very supportive in their approach to our project."
Hampton Jones look forward to supporting them with their continued fundraising efforts for this much-needed facility in West Auckland. We are passionate about better buildings for better lives, which aligns well with NZ RDA's vision of reaching more riders and changing more lives.
West Auckland Riding for the Disabled is volunteer run and led. It is affiliated to New Zealand Riding for the Disabled which assists more than 3000 people every year.
If you would like to help support West Auckland RDA in their fundraising efforts to achieve this fantastic goal, visit: www.westaucklandrda.org.nz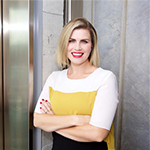 Associate Director, Marketing Manager
Margaret is the Marketing Manager at Hampton Jones. Having worked in the property and construction industry in both New Zealand and the UK for 12 years; she understands the impact that great design has on our lives, and is very passionate about championing better buildings for better lives.