Hampton Jones has put measures in place to respond to the COVID-19 pandemic. These measures represent current best practice and are similar to those being put in place by many other organisations.
These measures include:
Working from home – We adopted remote working some time ago so we already have the systems and practices in place for our staff to work from home.  We will continue to utilise these practices to keep business uninterrupted and reduce the amount of staff in our offices at any one time.  Our offices currently remain open.
Meetings – We will utilise voice and video conferencing wherever possible.  We will not be conducting external meetings in our offices from Monday 23 March, and as such we will be in touch to arrange face-to-face meetings should they still be required.
Travel – We will not be undertaking any unnecessary travel, either international or domestic.
Site visits – We will reduce our visits to site, and when it is unavoidable, we will reduce the number of people in attendance.
Hygiene – All staff have been briefed on hygiene procedures and will be undertaking social distancing practices.
All measures will be in place until further notice.
We are closely following the New Zealand Ministry of Health guidelines and reviewing our own policies as this situation evolves, but in the short term, our project delivery will continue as normal.
If you have questions, please contact:
Brian Jones, Managing Director – 021 931 231
Matt Earley, Director – 021 931 232
Tony Phillips, Regional Director – 021 686 348
Simon O'Brien, Regional Director – 021 605 723
Our priority is to protect our people, clients, and the wider community while minimising disruption to our business and clients. We recognise that this is a difficult time for all organisations and the people within them. If you feel that we could be of assistance, please don't hesitate to contact us.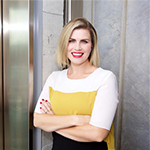 Associate Director, Marketing Manager
Margaret is the Marketing Manager at Hampton Jones. Having worked in the property and construction industry in both New Zealand and the UK for 12 years; she understands the impact that great design has on our lives, and is very passionate about championing better buildings for better lives.