Did you know that Hampton Jones is New Zealand's leading privately owned RICS regulated consultancy?
The Royal Institution of Chartered Surveyors (RICS) is a globally recognised professional body that 'promotes and enforces the highest professional qualifications and standards in the development and management of land, real estate, construction and infrastructure.'
Being an RICS regulated firm gives our clients the assurance that our work is of high quality and of a consistent standard across the globe.  To provide this assurance all RICS chartered surveyors follow RICS professional Guidance Notes. 
Last month the RICS released the 1st Edition of the RICS Professional Standards and Guidance Document, 'Technical Due Diligence of Commercial Property'.
Hampton Jones' Managing Director Brian Jones was a key member of the Global Working Group involved in preparing the document so clients can take further confidence that when they are working with Hampton Jones they are using highly qualified and expert advisors in Technical Due Diligence.
Follow the link to read the full Guidance Note:
https://www.rics.org/globalassets/technical-due-diligence-of-commercial-property.pdf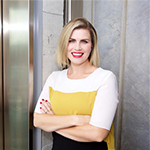 Associate Director, Marketing Manager
Margaret is the Marketing Manager at Hampton Jones. Having worked in the property and construction industry in both New Zealand and the UK for 12 years; she understands the impact that great design has on our lives, and is very passionate about championing better buildings for better lives.