Jonathan Stewart from our Christchurch office has recently qualified as a RICS Chartered Building Surveyor. Find out from him what it's like to work as a Building Surveyor at Hampton Jones!
Here's Jonny, outside the International Headquarters of The Royal Institution of Chartered Surveyors (RICS) in London.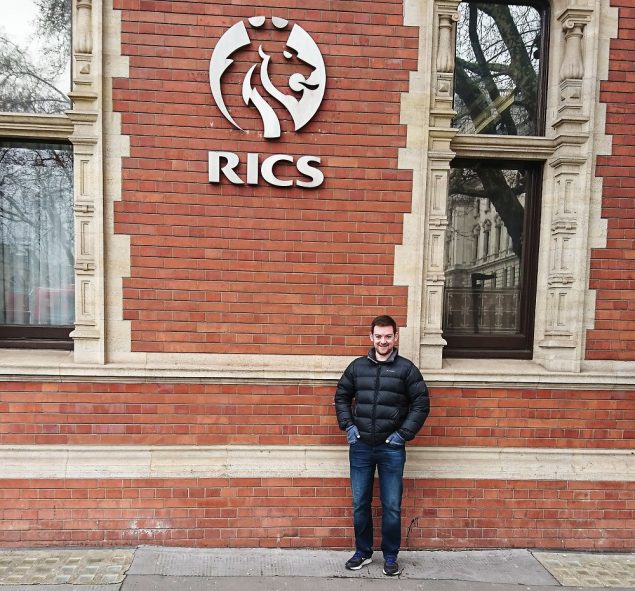 With over three years experience, Jonathan is rapidly building on experience gained through his degree and previous employment in key aspects of Building Surveying. Jonathan's previous responsibilities have included managing refurbishment projects from inception to completion with duties in design, client liaison, preparing drawing proposals and specifications.
Since joining Hampton Jones in early 2015, Jonathan has gained extensive experience in undertaking schedules of condition for both residential and commercial properties and carrying out multiple repair scoping of earthquake damaged properties. More recently, Jonathan has worked in preparing long term maintenance schedules and Asbestos survey work on behalf of the education sector.
Our Marketing Manager, Margaret Browne recently sat down with Jonathan to ask him a few questions:
How many years have you been Building Surveying?
Approximately 3 and a half years now.
Why did you become a Chartered Surveyor?
RICS is the most recognised property organisation in the world and by becoming Chartered shows that I have demonstrated a high standard of competence and professionalism which RICS requires.
How did Hampton Jones support you in this pursuit?
Monitoring the type of survey work I was doing throughout my time and ensuring I was covering all competencies required to sign off my Assessment of Professional Competence.
What do you like most about what you do?
Working as part of a multi-disciplinary company, client interaction and building relationships within the construction industry.
What's the hardest part of your job?
Sometimes my Northern Irish accent can be quite difficult to pick during project meetings and also the kiwi construction lingo can differ from the UK/Ireland terms.
What do you like most about working for Hampton Jones?
The people. It is a pleasure to work alongside a kind natured, humorous and competent bunch of people.
What project would you consider your most significant career accomplishment to date?
I was heavily involved in a commission to carry out multiple Stock Condition Surveys and report for all of the Higgins Group Holdings portfolio as part of the Fletcher Building acquisition. This project involved surveying numerous buildings on the Higgins depots in Palmerston North, Christchurch and Nelson and provide detailed Schedule of Condition reports within a tight timeframe.
How does Hampton Jones help to create better buildings?
By providing the due diligence and promoting the best practice principles in construction.
Why are better buildings important?
To create a healthy and enjoyable place to live, work and rest.
What do you enjoy doing when you're not at work?
Mountain biking, leisurely walks and exploring around NZ.
What's your favourite social media platform?
Facebook
What's the best place to eat in Christchurch?
Bhudda Stix (thai) on Riccarton Road!
What's your favourite building in New Zealand?
I like the traditional and gothic construction style of the University of Otago Registry building. In a more modern context, I recently was invited to a site walk-around of the new Christchurch Central Library and loved that building.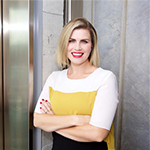 Associate Director, Marketing Manager
Margaret is the Marketing Manager at Hampton Jones. Having worked in the property and construction industry in both New Zealand and the UK for 12 years; she understands the impact that great design has on our lives, and is very passionate about championing better buildings for better lives.