Gareth Christopher is Hampton Jones' Associate Director and Manager of Building Surveying who heads up the team in our Auckland office. Gareth has 20 years' experience in the construction and property sector, gained both in the UK and NZ. Gareth and his award winning team provide professional building surveying advice on a range of commercial property matters to clients in the public and private sectors.
Our Marketing Manager, Margaret Browne recently sat down with Gareth to ask him a few questions:
How many years have you been working in Building Surveying?
Since 1997 – 22 years.
What do you like most about what you do?
The variety of building inspections and the opportunity to look at the way buildings are constructed, the way they fail and helping clients to fix them. I also enjoy helping clients make informed decisions around purchasing and owning buildings.
What's the hardest part of your job?
Concrete.
What do you like most about working for Hampton Jones?
I like the ability to be flexible in the way we deliver services to clients, tailoring services to meet differing client's expectations, across market sectors.
What project would you consider your most significant career accomplishment to date?
That's a tricky question, I think it would be the refurbishment of part of a Norman Castle that involved combining new types of construction and building services with conservation techniques on a scheduled ancient monument. It's the project that got me though my APC to become a Chartered Building Surveyor. I also enjoyed running the TDD project for the Westfield Malls that in part won Hampton Jones the RICS Building Surveying Team of the Year Award in 2016.
Is it better to be perfect and late, or good and on time?
If time is of the essence on a contract you can't be late and perfect. So, it depends on the client's needs and expectations. It's important to provide the best balance of time, cost and quality to give advice that clients can use to make the best possible decision within available timeframes. It's also important to set their expectations correctly around that.
How does Hampton Jones help to create better buildings?
We use our knowledge and passion of construction technology, environmental science and material performance to advise clients on the best combination of the above to meet their goals, within their budget constraints. I feel we have built a team that believes in this goal and wants to share and spread this passion.
Why are better buildings important?
Because better buildings make better lives by giving healthier, safer, dryer homes to live in and workplaces to be employed in.
It contributes to the wellbeing and confidence of the environment to have a healthy, stylish and safe built environment.
What do you enjoy doing when you're not at work?
Spending time with my family, paddleboarding, walking, staying active and enjoying the outdoors.
What's your favourite social media platform?
Don't have one.
What's the best place to eat in Auckland?
It depends on the mood, time of day and budget! Mexico, Monsoon Poon, Burger Burger, Amano, Ortolana, French markets, Food Truck Friday… so many great choices! Always worth trying somewhere new, that's my motto.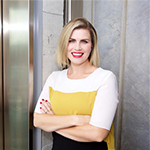 Associate Director, Marketing Manager
Margaret is the Marketing Manager at Hampton Jones. Having worked in the property and construction industry in both New Zealand and the UK for 12 years; she understands the impact that great design has on our lives, and is very passionate about championing better buildings for better lives.