It's a hell of a time to start a new role, but nonetheless Hampton Jones is very proud to introduce Sanjay Patel, our new Associate Director and Structural Engineering Manager.  Sanjay joins us after having spent a number of years working in the UK and Middle East and brings a wealth of experience in the design of glass and complex standalone structures.
Sanjay is based in Auckland and has responsibility for all Hampton Jones Structural Engineering projects across New Zealand.
Our Marketing Manager, Margaret Browne recently sat down with Sanjay to ask him a few questions.
Firstly – can you tell me what it's like to start a new job amidst a global pandemic, in a new country whilst working under national lock down conditions?
Prior to the pandemic we had decided that as a family of three, it would be a great opportunity to get away from the hustle and bustle of London – the so-called concrete jungle – and make a change to both our lifestyle and work. Having never been to New Zealand and only having heard great things, we thought we would see if it was all true.  So far it does seem to be good; lovely scenery and beaches to enjoy only a short walk away, but now that we're engrossed in the COVID-19 lockdown, the streets we had visited on arrival have an eerie feel to them, almost like from a movie set.
However, we are making the most of this family time together and we're learning how to live out of our suitcases until our shipment from the UK can be delivered when the restrictions are lifted!  There is a mist of risk and uncertainty as things are not familiar and our family are so far away, but video chat is great and it's the best we would be able to do to communicate with family and friends no matter where in the world we were right now.
Workwise, the uncertainty of workload and new opportunities are a challenge right now, but opportunities are still there, they may just be in a different form.  Uncertainty is also just a part of life; a challenge here and there makes you learn more about yourself, and as they say when one door closes another door opens.
My team is staying positive and enjoying being able to work from home.  I believe that this flexibility to the way we work will increase in future with all the efficiencies and the ease of communications that the pandemic has shown us are possible. As an industry we didn't fully embrace technology but right now it's the only way – and travelling to work is overrated!
Thanks for your perspective Sanjay.  We're really happy to have you onboard, despite these unpredictable times.  Back to my usual questions … 
How many years have you been working in the Construction industry? 
Time has flown. 16 years in total. 12 years in the UK and 4 years in the Middle East.
What have you done during this time?  
I've gained a range of experience from new-build high rise towers of 40+ stories, to intricate refurbishments in the heart of historic places. Along with traditional building structures constructed in reinforced concrete, masonry, steel and timber, I have developed key knowledge in the design of glass, offsite construction and complex standalone structures. I have also gained practical knowledge on methodologies, site logistics and program of works.  I have been fortunate to have been able to develop and implement systems and procedures throughout the design and delivery of projects and successfully lead and develop teams in different countries and cultures.
What do you like most about what you do? 
Working with different people and cultures and learning different construction techniques.
What's the hardest part of what you do? 
Working on developments with unknowns – it makes it interesting once you discover these, however the time challenges of turning variables around can be difficult due to time constraints.
What are you looking forward to most about working for Hampton Jones?  
Challenge and excitement. Challenges working with new codes and design methodologies and helping develop the Structural Engineering team which also makes this in-turn exciting as you are entering the unknown coming to a new place!
What's your main objective for the Hampton Jones Structural Engineering team? 
To work with the team and to understand what they like doing and ensuring we can fulfil their goals, as well as growing the Structural Engineering team for Hampton Jones. Hampton Jones is currently known for its other disciplines and with support, I would like to see a small structural team in each of the offices, which would comprise of around three to four people.
What project would you consider your most significant career accomplishment to date? 
Refurbishment of a heritage building within the heart of London, involving the use of various materials including a notable glass element comprising of two staircases and large glass roof. The design was complicated with a challenging client, making this project a learning example for me as an Engineer.
In addition, working in the Middle East on high-rise buildings was another challenge – working to different codes and practices, a diverse culture and fast paced programs.
What have you done professionally that is not an experience you'd want to repeat? 
Early on in my career, I was responsible for visiting a site. The contractor had poured a concrete ring beam, prior to my inspection. I then asked them to breakout a small section to see if any rebar had been installed. On this case none was installed, and then had to ask the contractor to remove the whole beam and start again. I would like to think this wouldn't happen again as this would have affected the health and safety of the site team.
Is it better to be perfect and late, or good and on time? 
Good and on time, sometimes the client can't wait for perfection or pay for it. But good and on time in my experience has worked best.
Why are better buildings important? 
Reduced lifetime costs, impact on the environment, carbon emissions.
What do you enjoy doing when you're not at work?  
Kick boxing, travelling with my family, cooking, just having fun and being out and about.
What's your favourite social media platform? 
Not too much into social media, I leave that to my wife… but LinkedIn is important and the only one I have.
What's the best place to eat in Auckland?  
(Perhaps too soon to know!) Still looking for a good Italian or potentially an Indian restaurant, not commercial, just how our parents made it. All in all somewhere vegetarian.
What's your favourite building in New Zealand? 
Haven't seen many yet due to the pandemic, only apartments! but the Sky Tower is great!
What's your favourite building internationally?  
Dubai Frame, as I was involved in the design. But the Gaudi building in Barcelona are very cool and a series of the Apple stores.
What's your favourite podcast? 
Not really a podcast person … but I enjoy reading! John Grisham and Andy McNab are my favourite authors – most of their books have been made into films and I like to read and watch both versions. Both are also crime fiction authors, which is a favourite.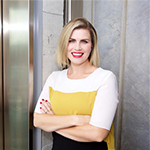 Associate Director, Marketing Manager
Margaret is the Marketing Manager at Hampton Jones. Having worked in the property and construction industry in both New Zealand and the UK for 12 years; she understands the impact that great design has on our lives, and is very passionate about championing better buildings for better lives.